Pincode of Phitkari, Meerut, Uttar Pradesh is 250401
Pincode
250401
Name
Phitkari B.O
District
Meerut
State
Uttar Pradesh
Status
Branch Office(Delivery)
Head Office
Meerut Cantt H.O
Sub Office
Mawana S.O
Location
Mawana Taluk of Meerut District
Telephone No
Not Available
SPCC
MEERUT-250001
Department Info
Meerut Division Bareilly Region Uttar Pradesh Circle
Address
Mawana, Uttar Pradesh 250401, India
Indian Postal Code System Consists of Six digits. The first to digits represent the state, the second two digits represent the district and the Third two digits represents the Post Office.In this case the first two digits

25

represents the state Uttar Pradesh, the second two digits

04

represent the district Meerut, and finally

01

represents the Post Office Phitkari B.O. Thus the Zip Code of Phitkari B.O, Meerut, uttar pradesh is 250401
Meerut Info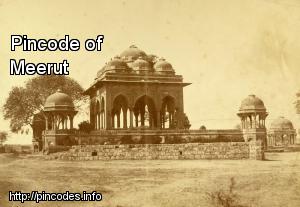 Meerut ( pronunciation ) is a city in the Indian state of Uttar Pradesh. It is an ancient city with settlements dating back to the Indus Valley civilization having been found in and around the area. The city lies 70 km (43 mi) northeast of the national capital New Delhi, and 453 km (281 mi) northwest of the state capital Lucknow.
Meerut is the second largest city in the National Capital region, and as of 2011 the 33rd most populous urban agglomeration and the 26th most populous city in India. It ranked 292 in 2006 and is projected to rank 242 in 2020 in the list of largest cities and urban areas in the world. The municipal area (as of 2001) is 141.89 km2 (54.78 sq mi) with the cantonment covering 35.68 km2 (3,568.06 ha). The city is one of the largest producers of sports goods, and the largest producer of musical instruments in India. The city is also an More Info
RECENT NEWS
1
Meerut youth lights Diwali cracker in 3-year-old`s mouth, critically injures child
2018-11-09
The incident happened at the Milak village on the Daurala road on Tuesday.
2
Meerut Bar Association cancels membership of woman advocate for creating ruckus at public place
2018-10-26
The Meerut Bar Association on Thursday cancelled membership of a woman advocate, who landed in a controversy after she drove her car rashly hitting at least four vehicles here, an official said.
comments powered by