Pincode of TOWNSHIP AURANGABAD MATHURA, Uttar Pradesh is 281006
Aurangabad, Mathura, Uttar Pradesh, India
Pincode
281006
Name
Aurangabad B.O
District
Mathura
State
Uttar Pradesh
Status
Branch Office(Delivery)
Head Office
Mathura H.O
Sub Office
Refinery Nagar S.O
Location
Mathura Taluk of Mathura District
Telephone No
Not Available
SPCC
NSPC Mathura-281001
Department Info
Mathura Division Agra Region Uttar Pradesh Circle
Address
Aurangabad, Uttar Pradesh 281006, India
Indian Postal Code System Consists of Six digits. The first to digits represent the state, the second two digits represent the district and the Third two digits represents the Post Office.In this case the first two digits

28

represents the state Uttar Pradesh, the second two digits

10

represent the district Mathura, and finally

06

represents the Post Office Aurangabad B.O. Thus the Zip Code of Aurangabad B.O, Mathura, uttar pradesh is 281006
Mathura Info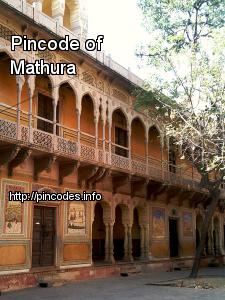 Mathura (ápronunciationá) is a city in the North Indian state of Uttar Pradesh. It is located approximately 50 kilometres (31ámi) north of Agra, and 145 kilometres (90ámi) south-east of Delhi; about 11 kilometres (6.8ámi) from the town of Vrindavan, and 22 kilometres (14ámi) from Govardhan. It is the administrative centre of Mathura District of Uttar Pradesh. During the ancient period, Mathura was an economic hub, located at the junction of important caravan routes. The 2011 census of India estimated the population of Mathura to be 441,894.
Mathura is the birthplace of Krishna at the centre of Braj or Brij-bhoomi, called Shri Krishna Janma-Bhoomi, literally: 'Lord Krishna's birthplace'. It is one of the seven cities (Sapta Puri) considered holy by Hindus. The Keshav Dev Temple was built in ancient times on the site of Krishna's birthplace (an underground prison). Mathura was the capital of the SurasenMore Info
RECENT NEWS
1
Holi celebration in Mathura extended by 4 days
2019-03-07
Various events, including wrestling, have been lined up, which will start on March 14 and continue till March 26.
2
Mathura: Seven hit by speeding train while trying to cross railway track in Kosi Kalan
2018-08-22
The incident took place on Tuesday morning when several people were hit by a speeding train while trying to cross a railway track. 
comments powered by