Pincode of Mohd Pur Mafi, Jyotiba Phule Nagar, Uttar Pradesh is 244501
Pincode
244501
Name
Mohd.Pur Mafi B.O
District
Jyotiba Phule Nagar
State
Uttar Pradesh
Status
Branch Office(Delivery)
Head Office
Amroha H.O
Sub Office
Kanth S.O
Location
Amroha Taluk of Jyotiba Phule Nagar District
Telephone No
Not Available
SPCC
MORADABAD-244001
Department Info
Moradabad Division Bareilly Region Uttar Pradesh Circle
Address
Uttar Pradesh 244501, India
Indian Postal Code System Consists of Six digits. The first to digits represent the state, the second two digits represent the district and the Third two digits represents the Post Office.In this case the first two digits

24

represents the state Uttar Pradesh, the second two digits

45

represent the district Jyotiba Phule Nagar, and finally

01

represents the Post Office Mohd.Pur Mafi B.O. Thus the Zip Code of Mohd.Pur Mafi B.O, Jyotiba Phule Nagar, uttar pradesh is 244501
Jyotiba Phule Nagar Info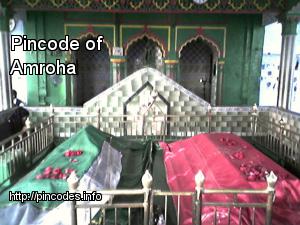 Amroha is a town in north-western Uttar Pradesh state in northern India, located north-west of Moradabad, near the Sot River. It is the administrative headquarters of the Amroha district.
History
The name of Amroha drove out from the word (Urdu) Aam Mango and Rohu Fish.The author of Tarikh-i-Amroha states that Amroha was ruled by Bhardwaj Tagas between 676 and 1141 AD. Mahmud of Ghazni conquered Amroha in 589 AH/1093 AD. Behram Shah (1240–42) appointed Malik Jalaluddin to the position of Hakim of Amroha in 1242. Ghiyasuddin Balban crushed a rebellion in this region, and so ruthless was his repression that the territory of Badaun and Amroha remained quiescent till the reign of Jalaluddin Khalji. Ambar Sultani built a mosque at Amroha. During Alauddin Khalji's reign, Malik Tughluq and Malik marched through the city to confront the Mongols at the Battle of Amroha. Saiyid Salim was assigned Amroha and Sirsi as an iqta and after his
.
More Info
RECENT NEWS
1
Hoardings with photos of Modi, Adityanath defaced in UP
2019-01-18
Faces of Prime Minister Narendra Modi and Uttar Pradesh Chief Minister Yogi Adityanath on a hoarding in Muzaffarnagar district were blackened by unidentified miscreants, authorities said on Friday.
2
Uncle Shivpal Yadav rakes 'guest house case', warns Akhilesh against Mayawati
2019-01-17
SP and BSP have announced their pre-poll alliance in Uttar Pradesh for the forthcoming 2019 Lok Sabha elections.
comments powered by