Pincode of Bhakriwala, Pali, Rajasthan is 306401
Pincode
306401
Name
Bhakriwala B.O
District
Pali
State
Rajasthan
Status
Branch Office(Delivery) directly a/w Head Office
Head Office
Pali Marwar H.O
Sub Office
Location
Pali Mwr Taluk of Pali District
Telephone No
Not Available
SPCC
PALI-306401
Department Info
Pali Division Jodhpur Region Rajasthan Circle
Address
Bhakriwala, Rajasthan, India
Indian Postal Code System Consists of Six digits. The first to digits represent the state, the second two digits represent the district and the Third two digits represents the Post Office.In this case the first two digits

30

represents the state Rajasthan, the second two digits

64

represent the district Pali, and finally

01

represents the Post Office Bhakriwala B.O. Thus the Zip Code of Bhakriwala B.O, Pali, rajasthan is 306401
Pali Info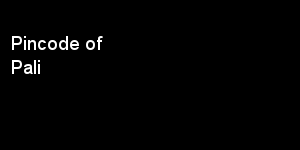 Pali (Pāli) is a Prakrit language native to the Indian subcontinent. It is widely studied because it is the language of many of the earliest extant literature of Buddhism as collected in the Pāli Canon or Tipiṭaka and is the sacred language of Buddhism.
Origin and development
Etymology
The word Pali is used as a name for the language of the Theravada canon. According to the Pali Text Society's Dictionary, the word seems to have its origins in commentarial traditions, wherein the Pāli (in the sense of the line of original text quoted) was distinguished from the commentary or vernacular translation that followed it in the manuscript. As such, the name of the language has caused some debate among scholars of all ages; the spelling of the name also varies, being found with both long "ā"
...
More Info
RECENT NEWS
1
Twelve school kids, driver killed in bus-lorry collision in UP's Etah
2017-01-20
Twelve minor school children and their bus driver were killed when their vehicle collided with a lorry amid dense fog on Aliganj-Paliyali road near Etah.
2
Portion of 'Pathankot martyr' house to be demolished in Bengaluru; family says it's national hero's residence
2016-08-12
With Bruhat Bangalore Mahanagara Palike (BBMP) all set to demolish the illegal portion of martyred National Security Guard (NSG) commando Lieutenant Colonel Niranjan Kumar's residence here, politics has taken its course.
comments powered by