Pincode of Bera, Pali, Rajasthan is 306126
Pincode
306126
Name
Bera B.O
District
Pali
State
Rajasthan
Status
Branch Office(Delivery)
Head Office
Marwar Jn. H.O
Sub Office
Jawai Bandh S.O
Location
Taluk of Pali District
Telephone No
Not Available
SPCC
PALI-306401
Department Info
Pali Division Jodhpur Region Rajasthan Circle
Address
Bera, Rajasthan 306126, India
Indian Postal Code System Consists of Six digits. The first to digits represent the state, the second two digits represent the district and the Third two digits represents the Post Office.In this case the first two digits

30

represents the state Rajasthan, the second two digits

61

represent the district Pali, and finally

26

represents the Post Office Bera B.O. Thus the Zip Code of Bera B.O, Pali, rajasthan is 306126
Pali Info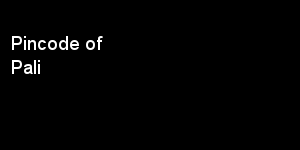 Pali (Pāli) is a Prakrit language native to the Indian subcontinent. It is widely studied because it is the language of many of the earliest extant literature of Buddhism as collected in the Pāli Canon or Tipiṭaka and is the sacred language of Buddhism.
Origin and development
Etymology
The word Pali is used as a name for the language of the Theravada canon. According to the Pali Text Society's Dictionary, the word seems to have its origins in commentarial traditions, wherein the Pāli (in the sense of the line of original text quoted) was distinguished from the commentary or vernacular translation that followed it in the manuscript. As such, the name of the language has caused some debate among scholars of all ages; the spelling of the name also varies, being found with both long "ā"
...
More Info
RECENT NEWS
1
Doubtful if Trinamool government can hold peaceful panchayat polls: Union Minister
2018-04-16
Iterating that in a democracy, every election down to the municipality of panchayat level should be held peacefully, the Bharatiya Janata Party (BJP) leader expressed doubts over whether the state government had the capability to conduct a violence-free poll.
2
Nepali national among 12 killed in Mumbai eatery blaze
2017-12-19
At least 12 persons were killed when a major fire engulfed a dry snacks and sweetmeats shop in Mumbai.
comments powered by