Pincode of Shyamgarh, Nagaur, Rajasthan is 341507
Pincode
341507
Name
Shyamgarh B.O
District
Nagaur
State
Rajasthan
Status
Branch Office(Delivery)
Head Office
Didwana H.O
Sub Office
Maroth S.O
Location
Nawacity Taluk of Nagaur District
Telephone No
Not Available
SPCC
JAIPUR-302001
Department Info
Nagaur Division Jodhpur Region Rajasthan Circle
Address
Shyamgarh, Rajasthan 341507, India
Indian Postal Code System Consists of Six digits. The first to digits represent the state, the second two digits represent the district and the Third two digits represents the Post Office.In this case the first two digits

34

represents the state Rajasthan, the second two digits

15

represent the district Nagaur, and finally

07

represents the Post Office Shyamgarh B.O. Thus the Zip Code of Shyamgarh B.O, Nagaur, rajasthan is 341507
Nagaur Info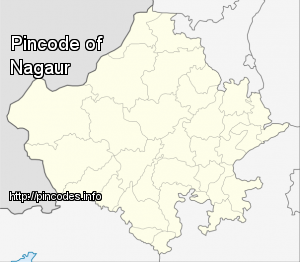 Nagaur (Nāgaur) is a city in the state of Rajasthan in India. It is the administrative headquarters of Nagaur District. The Nagaur city lies about midway between Jodhpur and Bikaner.
History
Nagaur or Naga-Pur is referred to in the Mahabharata. The kingdom of Ahichhatrapur which Arjuna is said to have conquered and subsequently offered to his Guru Dronacharya, was perhaps some of the area of the Nagaur district. It was the capital of Jangladesh. The foundation of city dates back to 4th century BC. Nagas originally ruled over this place and about 7th century onwards the Chauhans became the overlords of Nagaur and it was included in Sapadalaksha. The city was at the center of Muslim invasion from Central Asia. The fort is of historical importance. The Rajput rulers dominated Nagaur for a longer period. Nagaur ruler were repeatedly forced to pay tribute to the Sisodias of Chittor while their lands were slowly annexed
..
More Info
RECENT NEWS
1
Won't tolerate Alwar lynching-like incidents: Rajasthan CM Vasundhara Raje
2017-04-26
Days after a 55-year-old dairy farmer died after allegedly being attacked by cow vigilantes in Alwar, Rajasthan Chief Minister Vasundhara Raje on Tuesday said such incidents will not be tolerated in her state.
2
Three labourers die in granite mine blast in Rajasthan
2017-04-18
Three labourers have died in a blast at a granite mine in Jalore district of Rajasthan, police said on Monday.
comments powered by