Pincode of Mandarpura, Hanumangarh, Rajasthan is 335523
Pincode
335523
Name
Mandarpura B.O
District
Hanumangarh
State
Rajasthan
Status
Branch Office(Delivery)
Head Office
Hanumangarh Jn. H.O
Sub Office
Nohar S.O
Location
Nohar Taluk of Hanumangarh District
Telephone No
Not Available
SPCC
HANUMANGARH-335512
Department Info
Sriganganagar Division Jodhpur Region Rajasthan Circle
Address
Manderpura, Rajasthan 335523, India
Indian Postal Code System Consists of Six digits. The first to digits represent the state, the second two digits represent the district and the Third two digits represents the Post Office.In this case the first two digits

33

represents the state Rajasthan, the second two digits

55

represent the district Hanumangarh, and finally

23

represents the Post Office Mandarpura B.O. Thus the Zip Code of Mandarpura B.O, Hanumangarh, rajasthan is 335523
Hanumangarh Info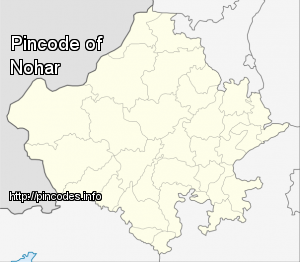 Damamm
Nohar is a city and a municipality in Hanumangarh district in the Indian state of Rajasthan.
Geography
Nohar is located at 29.18°N 74.77°E / 29.18; 74.77. It has an average elevation of 186 metres (610 feet). Nohar is a semi-arid area and experiences very low rainfall. Summer in Nohar is full of sand storms and low rainfall owing to poor monsoon. Sometimes, it gets rainfall in winter due to Western disturbances.
Language
Bagri, a dialect of Rajasthani language, is spoken by a majority of the population. A little influence of Haryanvi language can also be noticed here because of close proximity of this town to Haryana, and family relationships between the people of Nohar and citizens of Sirsa district of Haryana situated nearby.
RECENT NEWS
1
Rajasthan Lok Sabha Election Results 2019 Live Updates: BJP takes lead in 16 seats, Rajyavardhan Rathore leading from Jaipur Rural
2019-05-23
Lok Sabha election results 2019 for 25 seats in Rajasthan is all set to be declared today. The primary contest is between Bharatiya Janata Party and Congress. Lok Sabha Election trends of round-wise counting of the seats will be displayed through LEDs at prominent locations.     
2
Lok Sabha Election Result 2019: Counting begins in Rajasthan
2019-05-23
The counting for 25 Lok Sabha seats in Rajasthan began at 8 am on May 23, 2019. The fate of 249 candidates in the fray is likely to be known by the end of the day. The main battle in the state is between Bharatiya Janata Party and Congress. In 2014, Narendra Modi-led BJP swept all the 25 seats, a feat it aims to recreate this year. It was the first time since 1989 that Congress failed to retain a single seat in the state. Congress is currently in power in the state after emerging successfull in the 2018 Assembly election.
comments powered by