Pincode of Ragha Chhoti, Churu, Rajasthan is 331023
Pincode
331023
Name
Ragha Chhoti B.O
District
Churu
State
Rajasthan
Status
Branch Office(Delivery)
Head Office
Churu H.O
Sub Office
Sadulpur S.O
Location
Sadulpur Taluk of Churu District
Telephone No
Not Available
SPCC
CHURU-331001
Department Info
Churu Division Jodhpur Region Rajasthan Circle
Address
Ragha Chhoti, Rajasthan 331023, India
Indian Postal Code System Consists of Six digits. The first to digits represent the state, the second two digits represent the district and the Third two digits represents the Post Office.In this case the first two digits

33

represents the state Rajasthan, the second two digits

10

represent the district Churu, and finally

23

represents the Post Office Ragha Chhoti B.O. Thus the Zip Code of Ragha Chhoti B.O, Churu, rajasthan is 331023
Churu Info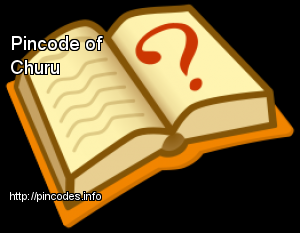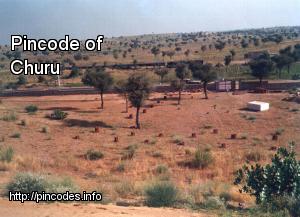 Churu (Rajasthani: चूरु) is a city in the desert region of Rajasthan state of India. It is known as gateway to the Thar Desert of Rajasthan. It is the administrative headquarters of Churu District. It lies in the Thar Desert on the National Highway-65 connecting Pali to Ambala and is a junction station on the railway line to Bikaner. It is near the shifting sand dunes of the Thar Desert and has grand havelis with marvelous fresco paintings, namely Kanhaiya lal Bagla ki Haweli and Surana Haweli, with hundreds of small windows. It also has some fine Chhatris. Near the town is a religious seat of the Nath sect of Sadhus where there are life-size Marble statue of their deities and a place for prayers. There stands a Dharam Stup, a symbol of religious equality. At the centre of the town is a fort built about 400 years ago.
History
Founded in A.D. 1620 by Nirban Clan of Rajputs and the place waMore Info
RECENT NEWS
1
`Rahul deliberately linking BJP with family assassinations`
2013-10-29
BJP accused Rahul Gandhi of deliberately trying to link BJP with assassination of his grandmother and father at a political rally in Churu recently.
2
Rahul spoke from heart, to have resonance across country: Congress
2013-10-23
Congress said Rahul Gandhi`s emotionally-charged speeches in Churu and Alwar showed he spoke from the heart, which will have its resonance across the country.
comments powered by