Pincode of Shyampura, Bhilwara, Rajasthan is 311604
Pincode
311604
Name
Shyampura B.O
District
Bhilwara
State
Rajasthan
Status
Branch Office(Delivery)
Head Office
Bhilwara H.O
Sub Office
Mandalgarh S.O
Location
Bhilwara Taluk of Bhilwara District
Telephone No
Not Available
SPCC
Bhilwara-311001
Department Info
Bhilwara Division Ajmer Region Rajasthan Circle
Address
Shyampura, Rajasthan, India
Indian Postal Code System Consists of Six digits. The first to digits represent the state, the second two digits represent the district and the Third two digits represents the Post Office.In this case the first two digits

31

represents the state Rajasthan, the second two digits

16

represent the district Bhilwara, and finally

04

represents the Post Office Shyampura B.O. Thus the Zip Code of Shyampura B.O, Bhilwara, rajasthan is 311604
Bhilwara Info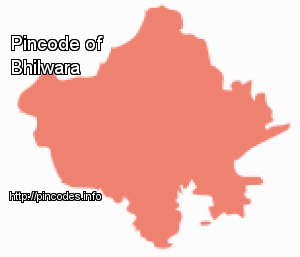 Bhilwara /biːlˈvɑːrə/ is a city in the Mewar region of Rajasthan, India.
History
Bhilwara
It most pioner city of Rajasthan. Tradition has it that it came to be known as Bhilwara because it was mostly inhabited by Bhils in old days. These Bhils were eventually driven away towards the hilly tracts and interior places of less importance by the ancestors of the peasant settlers. Ironically enough ,now very few Bhils live in this area.
Another version recounts that the present Bhilwara city had a mint where coins known as 'BHILADI' were minted and from this denomination was derived the name of the districtMore Info
RECENT NEWS
1
In the face of opposition, Rajasthan CM Vasundhara Raje calls for rethink on controversial 'gag law': Reports
2017-10-24
Vasundhara Raje-led BJP government on Monday tabled the Criminal Laws (Rajasthan Amendment) Bill in the Rajasthan Assembly.  
2
Vasundhara Raje-led Rajasthan govt likely to table bill shielding judges, babus today
2017-10-23
The Vasundhara Raje-headed Rajasthan government on Monday is likely to table a bill which seeks to amend criminal laws to protect both serving and former judges, magistrates and public servants in Rajasthan from investigation for on-duty action without the state government's prior sanction.
comments powered by