Pincode of Vangdari, Ahmed Nagar, Maharashtra is 413726
Pincode
413726
Name
Vangdari B.O
District
Ahmed Nagar
State
Maharashtra
Status
Branch Office(Delivery)
Head Office
Ahmednagar H.O
Sub Office
Shrigonda SSK S.O
Location
Shrigonda Taluk of Ahmed Nagar District
Telephone No
Not Available
SPCC
PUNE HO-411001
Department Info
Ahmednagar Division Pune Region Maharashtra Circle
Address
Indian Postal Code System Consists of Six digits. The first to digits represent the state, the second two digits represent the district and the Third two digits represents the Post Office.In this case the first two digits

41

represents the state Maharashtra, the second two digits

37

represent the district Ahmed Nagar, and finally

26

represents the Post Office Vangdari B.O. Thus the Zip Code of Vangdari B.O, Ahmed Nagar, maharashtra is 413726
Ahmed Nagar Info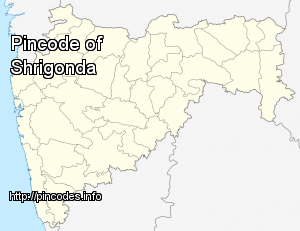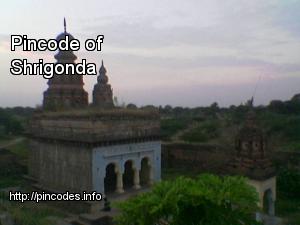 Shrigonda is an old city and a municipal council in Ahmednagar district in the Indian state of Maharashtra. The place is described as Santanchi Punyabhumi (Holy Land of Saints).
Historical monuments
The place consists of: '* Twelve Shivlingas, i.e. 12 temples of Lord Shiva,
A famous 16th Century temple of Surya (Sun), Shriram, Shrikrishna, Datta, Vitthal and Rakhumai, Ganesh, Vishnu, Shiva, Kalikamata, Ambikamata
Famous Shani Mandir
Jodhpurcha Maruti Temples
Bhairoba
Khandoba
Salvandevi
Shri Vitthal Kene Mandir and Narayan Ashram
shree swami samartha seva kendra
Tatya Maharaj matha
All these temples are of historical importance and are worshipped by Shrigodekars (people of Shrigonda).
Mythology
Saints
Eight saints are called
More Info
RECENT NEWS
1
BJP solely responsible for political crisis in Goa: Shiv Sena
2018-09-20
The Sena alleged that the BJP's ruling allies -- Maharashtrawadi Gomantak Party (MGP) and Goa Forward Party (GFP) -- were trying to destabilise the government, as leaders of these parties were vying for the top post in the state.
2
Maharashtra BJP MLA bats for 'urgent' Muslim reservation, attacks Fadnavis
2018-09-18
The Maharashtra government should immediately provide reservation to the Muslim community so that they can progress, said the BJP MLA.
comments powered by