Pincode of Tahanga, Tikamgarh, Madhya Pradesh is 472221
Pincode
472221
Name
Tahanga B.O
District
Tikamgarh
State
Madhya Pradesh
Status
Branch Office(Delivery)
Head Office
Tikamgarh H.O
Sub Office
Palera S.O
Location
Palera Taluk of Tikamgarh District
Telephone No
Not Available
SPCC
Tikamgarh-472001
Department Info
Chhatarpur Division Bhopal HQ Region Madhya Pradesh Circle
Address
Palera, Madhya Pradesh 472221, India
Indian Postal Code System Consists of Six digits. The first to digits represent the state, the second two digits represent the district and the Third two digits represents the Post Office.In this case the first two digits

47

represents the state Madhya Pradesh, the second two digits

22

represent the district Tikamgarh, and finally

21

represents the Post Office Tahanga B.O. Thus the Zip Code of Tahanga B.O, Tikamgarh, madhya pradesh is 472221
Tikamgarh Info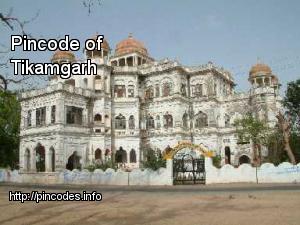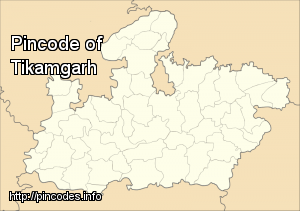 Tikamgarh ( टीकमगढ़ ) is a town and a tehsil in Tikamgarh district in the Indian state of Madhya Pradesh. The city serves as a district headquarters. The earlier name of Tikamgarh was 'Tehri' (i.e., a triangle) consisting of three hamlets, forming a rough triangle. In Tikamgarh town there is locality still known as 'Purani Tehri' (Old Tehri). Until Indian independence in 1947, Tikamgarh, formerly called Tehri, was part of the kingdom of Orchha, which was founded in the 16th century by the Bundeli chief Rudra Pratap Singh, who became the first King of Orchha. In 1783 the capital of the state was moved to Tehri, about 40 miles south of Orchha, which was home to the fort of Tikamgarh, and the town eventually took the name of the fort. The district is famous for the old fort of Kundar known as Garh Kundar, which was built by Khangars and remained the capital of kshatriya Khangar rulers from 1180 to 1347.
Origin of the name

More Info
RECENT NEWS
1
Tikamgarh Lok Sabha constituency
2019-04-22
The Tikamgarh Lok Sabha Constituency has a total of eight assembly segments - Tikamgarh, Jatara, Prithvipur, Niwari, Khargapur, Maharajpur, Chhatarpur and Bijawar.
2
Niwari: MP govt announces creation of new district, decision to come into effect from Oct 1
2018-09-30
The new district would include three tehsils of the present Tikamgarh district - Niwari, Orchha and Prithvipur.
comments powered by