Pincode of Isarthuni, Ratlam, Madhya Pradesh is 457001
Pincode
457001
Name
Isarthuni B.O
District
Ratlam
State
Madhya Pradesh
Status
Branch Office(Delivery) directly a/w Head Office
Head Office
Ratlam H.O
Sub Office
Location
Ratlam Taluk of Ratlam District
Telephone No
Not Available
SPCC
NO-457001
Department Info
Ratlam Division Indore Region Madhya Pradesh Circle
Address
Ratlam, Madhya Pradesh 457001, India
Indian Postal Code System Consists of Six digits. The first to digits represent the state, the second two digits represent the district and the Third two digits represents the Post Office.In this case the first two digits

45

represents the state Madhya Pradesh, the second two digits

70

represent the district Ratlam, and finally

01

represents the Post Office Isarthuni B.O. Thus the Zip Code of Isarthuni B.O, Ratlam, madhya pradesh is 457001
Ratlam Info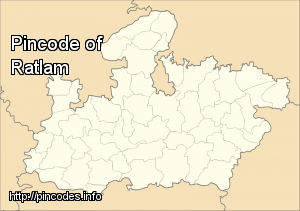 Ratlam аpronunciationа (Hindi: рд░рддрд▓рд╛рдо), known historically as Ratnapuri (Sanskrit: рд░рддреНрдирдкреБрд░реА, lit. gem city) is a city in the northwestern part of the Malwa region in Madhya Pradesh state of central India. The city of Ratlam lies 480 metres (1,575 feet) above sea level. It is the administrative headquarters of Ratlam district, which was created in 1947 after the independence of India. Ratlam is also very well known for Gold, Ratlami Sev, Ratlami Saari and its people.The shrine of Hussain Tekri is situated here.The famous jain temple Bibrod Tirth is situated here
Early history
Ratlam was given to Ratan Singh Rathore as a gift by Shah Jahan. Shah Jahan loved watching elephant fights and therefore held an event, choosing his favourite war elephants and inviting all the clans of Rajputana (present-day RajasthanMore Info
RECENT NEWS
1
Trackman awarded by Railway Board for averting major train tragedy
2018-07-06
The Railway Board has felicitated a trackman of the Ratlam Division of Western Railways, Balwant, for averting a major train accident. According to a release by the Ministry of Railways, Balwant spotted a collapsed ballast retainer of the Thandla-Bajranggarh station bridge and alerted the authorities in time to avert the mishap.
2
MP: 14 dead as bus plunges into water-filled pit near Ratlam
2016-10-15
The bus fell into a pit dug for the soil/gravel to be used in road-laying. Rain water had collected in the pit.
comments powered by