Pincode of Airforce Living Area Pinto Park Gwalior, Madhya Pradesh is 475002
Pinto Park, Gayatri Nagar, Gwalior, Madhya Pradesh 474004, India
Pincode
475002
Name
Jakhara B.O
District
Gwalior
State
Madhya Pradesh
Status
Branch Office(Delivery)
Head Office
Morar H.O
Sub Office
Behat S.O (Gwalior)
Location
Morar Taluk of Gwalior District
Telephone No
Not Available
SPCC
GWALIOR R.S.-474002
Department Info
Gwalior Division Gwalior Region Madhya Pradesh Circle
Address
Morar, Gwalior, Madhya Pradesh, India
Indian Postal Code System Consists of Six digits. The first to digits represent the state, the second two digits represent the district and the Third two digits represents the Post Office.In this case the first two digits

47

represents the state Madhya Pradesh, the second two digits

50

represent the district Gwalior, and finally

02

represents the Post Office Jakhara B.O. Thus the Zip Code of Jakhara B.O, Gwalior, madhya pradesh is 475002
Gwalior Info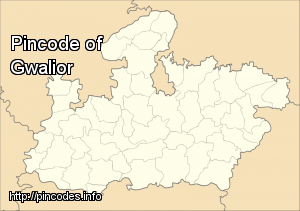 Gwalior ( pronunciation ) is a historic and major city in the Indian state of Madhya Pradesh and one of the Counter-magnet cities. Located 319 kilometres (198 mi) south of Delhi the capital city of India, Gwalior occupies a strategic location in the Gird region of India. The city and its fortress have been ruled by several historic northern Indian kingdoms. From the Tomars in the 13th century, it was passed on to the Mughals, then to the Marathas in 1754 followed by the Scindias in 18th century.
Besides being the administrative headquarters of Gwalior district and Gwalior division, Gwalior has many administrative offices of Chambal Division of northern Madhya Pradesh. Several administrative and judicial organizations, commissions and boards have their state, as well as national, headquarters situated in the city. Gwalior was the winter capital of the state of Madhya Bharat which later became a part of the larger staMore Info
RECENT NEWS
1
RSS-linked Akhil Bharatiya Pratinidhi Sabha to hold 3-day annual meet in Gwalior starting today
2019-03-08
Nearly 1400 RSS workers are expected to participate in the annual meet.
2
PM Modi to attend top-level police conference in Gwalior today; terrorism, radicalisation of youths on agenda
2018-01-07
Modi is expected to meet top police officers from all states and central police organisations and speak on new-age crime like cyberterrorism and radicalisation of youths.
comments powered by