Pincode of Industrial Estate Gwalior, Gwalior, Madhya Pradesh is 474002
Pincode
474002
Name
Industrial Estate Gwalior S.O
District
Gwalior
State
Madhya Pradesh
Status
Sub Office(Non Delivery)
Head Office
Morar H.O
Sub Office
Location
Gird Taluk of Gwalior District
Telephone No
0751-2443178
SPCC
GWALIOR R.S.-474002
Department Info
Gwalior Division Gwalior Region Madhya Pradesh Circle
Address
Indian Postal Code System Consists of Six digits. The first to digits represent the state, the second two digits represent the district and the Third two digits represents the Post Office.In this case the first two digits

47

represents the state Madhya Pradesh, the second two digits

40

represent the district Gwalior, and finally

02

represents the Post Office Industrial Estate Gwalior S.O. Thus the Zip Code of Industrial Estate Gwalior S.O, Gwalior, madhya pradesh is 474002
Gwalior Info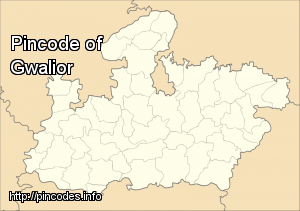 Gwalior ( pronunciation ) is a historic and major city in the Indian state of Madhya Pradesh and one of the Counter-magnet cities. Located 319 kilometres (198 mi) south of Delhi the capital city of India, Gwalior occupies a strategic location in the Gird region of India. The city and its fortress have been ruled by several historic northern Indian kingdoms. From the Tomars in the 13th century, it was passed on to the Mughals, then to the Marathas in 1754 followed by the Scindias in 18th century.
Besides being the administrative headquarters of Gwalior district and Gwalior division, Gwalior has many administrative offices of Chambal Division of northern Madhya Pradesh. Several administrative and judicial organizations, commissions and boards have their state, as well as national, headquarters situated in the city. Gwalior was the winter capital of the state of Madhya Bharat which later became a part of the larger staMore Info
RECENT NEWS
1
Vyapam: CBI files charge sheet against three in Gwalior court
2016-11-04
The supplementary charge sheet was filed before a court in Gwalior against a solver, identified as Dilip Kumar Pathak, candidate Deshraj Singh and alleged middleman Suresh Jat.
2
Fire erupts in Gwalior Commissioner`s office
2014-05-02
A major fire on Thursday broke out at the municipal commissioner`s office, situated in a 142-year-old building here, causing extensive damage to the furniture and files.
comments powered by