Pincode of Hoolgera, Gulbarga, Karnataka is 585322
Pincode
585322
Name
Hoolgera B.O
District
Gulbarga
State
Karnataka
Status
Branch Office(Delivery)
Head Office
Gulbarga H.O
Sub Office
Ratkal S.O
Location
Chincholi Taluk of Gulbarga District
Telephone No
Not Available
SPCC
Gulbarga-585101
Department Info
Gulbarga Division North Karnataka Region Karnataka Circle
Address
Karnataka 585322, India
Indian Postal Code System Consists of Six digits. The first to digits represent the state, the second two digits represent the district and the Third two digits represents the Post Office.In this case the first two digits

58

represents the state Karnataka, the second two digits

53

represent the district Gulbarga, and finally

22

represents the Post Office Hoolgera B.O. Thus the Zip Code of Hoolgera B.O, Gulbarga, karnataka is 585322
Gulbarga Info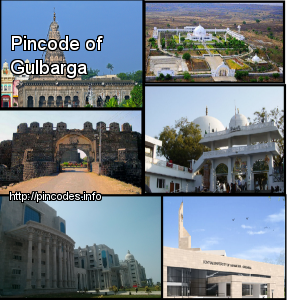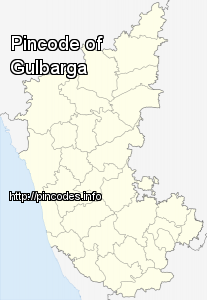 Kalaburagi (officially Kalaburagi City, also known as Gulbarga) is a city in the Indian state of Karnataka, India. It is the administrative headquarters of the Kalaburagi District and a major city of the North Karnataka region. Kalaburagi is 623 km north of the state capital of Bengaluru and 220 km from Hyderabad. Although previously part of Hyderabad State, it was incorporated into a newly formed Mysore State (now known as Karnataka) through the States Reorganisation Act in 1956.
Kalaburagi is famous for toordal Pigeon pea and the limestone deposits are more in Kalaburagi District. As per data released by Govt. of India for Census 2011, Kalaburagi is an Urban Agglomeration coming under category of Class I UAs/Towns. Kalaburagi city is governed by Municipal Corporation and is in Kalaburagi Urban Region. It is a rapidly urbanizing city which comes under Kalaburagi Metropolitan area. The city is well known for its many places of architecturMore Info
RECENT NEWS
1
Karnataka Lok Sabha election results 2019 live updates: BJP`s DV Sadananda Gowda is leading from Bangalore North
2019-05-23
The main contest in the state is between the Bharatiya Janata Party (BJP) and the Congress-Janata Dal (Secular) alliance.
2
Congress ready with Karnataka-style plan to stop BJP-led NDA; eyes TMC, TDP, SP-BSP support
2019-05-23
Even before the Lok Sabha election results, the Congress legal team has prepared three sets of letters in case the party feels it can give a fight to the BJP-led NDA in forming the next government. It is eyeing theĀ support of the Trinamool Congress (TMC), Telugu Desam Party (TDP), Samajwadi Party (SP), Bahujan Samaj Party (BSP) and the Left Front led by the Communist Party of India Marxist.
comments powered by