Pincode of Chidri, Bidar, Karnataka is 585403
Pincode
585403
Name
Chidri B.O
District
Bidar
State
Karnataka
Status
Branch Office(Delivery)
Head Office
Bidar H.O
Sub Office
Bidar Gandhi Gunj S.O
Location
Bidar Taluk of Bidar District
Telephone No
Not Available
SPCC
Bidar-585401
Department Info
Bidar Division North Karnataka Region Karnataka Circle
Address
Chidri, Bidar, Karnataka 585401, India
Indian Postal Code System Consists of Six digits. The first to digits represent the state, the second two digits represent the district and the Third two digits represents the Post Office.In this case the first two digits

58

represents the state Karnataka, the second two digits

54

represent the district Bidar, and finally

03

represents the Post Office Chidri B.O. Thus the Zip Code of Chidri B.O, Bidar, karnataka is 585403
Bidar Info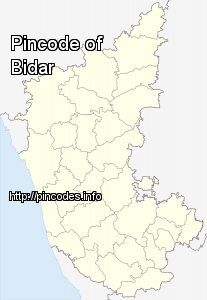 Bidar is a hill-top city situated on the deccan plateau, in the north-eastern part of Karnataka state in India. It is the headquarters of the Bidar District which shares its border with Maharashtra and Telangana. It is a rapidly urbanizing city which comes under Bidar Metropolitan area. The city is well known for its many places of architectural, historical and religious importance.
Being located at the farthest of around 700 km (430 mi) from the state capital Bengaluru, it has been neglected by the state government for a long time. However, owing to its rich heritage, the city has a prominent place in the Archaeological Map of India. Picturesquely perched on the Deccan plateau, the Bidar fort is more than 500 years old and still standing strong. According to the book "Bidar Heritage" published by the state Department of Archaeology, Museums and Heritage, of the 61 monuments listed by the department, about 30 are tombs located in and around BidaMore Info
RECENT NEWS
1
Kambala bill sent to President for assent
2017-02-23
A Bill passed recently by Karnataka Assembly to legalise traditional buffalo race "Kambala" and bullock cart races has been sent to the President for his assent, Law and Parliamentary Affairs Minister T B Jayachandra said today.
2
PETA to move SC against Jallikattu, Kambala
2017-02-23
In a bid to put an end to the bull-taming sport of Tamil Nadu, Jallikattu, and the buffalo race of Karnataka, Kambala, the People for the Ethical Treatment of Animals (PETA) on Wednesday said it will move the Supreme Court challenging the legislation passed by the assemblies of both states for having allowed these sports.
comments powered by