Pincode of Namkum Chai Bagan Post Office Namkum, Jharkhand is 834010
Pincode
834010
Name
Tetri B.O
District
Ranchi
State
Jharkhand
Status
Branch Office(Non Delivery)
Head Office
Doranda H.O
Sub Office
Namkum S.O
Location
Namkum Taluk of Ranchi District
Telephone No
Not Available
SPCC
RANCHI RMS-834001
Department Info
Ranchi Division Ranchi Region Jharkhand Circle
Address
Namkum, Ranchi, Jharkhand 834010, India
Indian Postal Code System Consists of Six digits. The first to digits represent the state, the second two digits represent the district and the Third two digits represents the Post Office.In this case the first two digits

83

represents the state Jharkhand, the second two digits

40

represent the district Ranchi, and finally

10

represents the Post Office Tetri B.O. Thus the Zip Code of Tetri B.O, Ranchi, jharkhand is 834010
Ranchi Info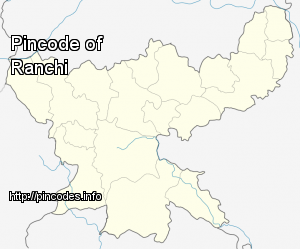 Ranchi (/ˈrɑːntʃi/ ) is the capital of the Indian state of Jharkhand, and its third most populous city of the state. Ranchi was the centre of the Jharkhand movement, which called for a separate state for the tribal regions of South Bihar, northern Orissa, western West Bengal & the eastern area of what is present-day Chhattisgarh. The Jharkhand state was formed on 15 November 2000 by carving out the Bihar divisions of Chota Nagpur and Santhal Parganas.
The name Ranchi is derived from the previous name of the Oraon village at the same site, Archi. "Archi" derives from the Oraon word for bamboo grove or stave. According to legend, after an altercation with a spirit, a farmer beat the
More Info
RECENT NEWS
1
PM Narendra Modi to roll out Ayushman Bharat in Ranchi on Sunday
2018-09-23
Prime Minister Narendra Modi will roll out the Centre's flagship Ayushman Bharat – Pradhan Mantri Jan Aarogya Yojana (AB-PMJAY) in Ranchi on Sunday. Under the vision of Ayushman Bharat, Pradhan Mantri Jan Aarogya Yojana shall be implemented so that all citizens receive their due share of healthcare.
2
United Left alliance sweeps JNU students' union elections, bags all 4 seats
2018-09-17
The polling for the annual union elections was held on Friday in which nearly 70 per cent students exercised their franchise to elect their president, vice president, general secretary and joint secretary.
comments powered by