Pincode of Tildag, Garhwa, Jharkhand is 822114
Pincode
822114
Name
Tildag B.O
District
Garhwa
State
Jharkhand
Status
Branch Office(Delivery)
Head Office
Daltonganj H.O
Sub Office
Garhwa S.O
Location
Garhwa Taluk of Garhwa District
Telephone No
Not Available
SPCC
GARHWA-822114
Department Info
Palamau Division Ranchi Region Jharkhand Circle
Address
Garhwa, Jharkhand 822114, India
Indian Postal Code System Consists of Six digits. The first to digits represent the state, the second two digits represent the district and the Third two digits represents the Post Office.In this case the first two digits

82

represents the state Jharkhand, the second two digits

21

represent the district Garhwa, and finally

14

represents the Post Office Tildag B.O. Thus the Zip Code of Tildag B.O, Garhwa, jharkhand is 822114
Garhwa Info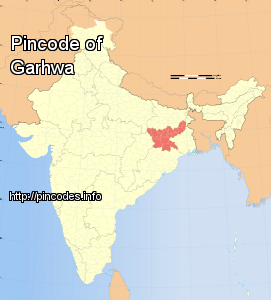 Garhwa is a city and a municipality in, and headquarters of, Garhwa district in the state of Jharkhand, India.
History
The erstwhile Garhwa Subdivision of Palamau district consisting of 8 Blocks was separated from Palamau district as an independent district "Garhwa" with effect from 1 April 1991. It is situated on Southwest corner of Palamau division, which lies between 23060'and 24039' N latitude and 83022' and 84000' E longitude. The district is surrounded by river Sone in the north; Palamau district and area of Chhattisgarh in the south; Palamau district in the east and Surguja district of Chhattisgarh and Sonebhadra district of U.P. in the west. Garhwa district is a part of Palamau Commissionery consisting of 14 blocks and two subdivisions namely Garhwa & Nagar-Untrai.
Geography
Garhwa is located at
...
More Info
RECENT NEWS
1
Garhwal Lok Sabha Constituency of Uttarakhand: Full list of candidates, polling dates
2019-05-22
Here is the full list of candidates contesting the Lok Sabha election in 2019 from the Garhwal Lok Sabha constituency
2
Tehri Garhwal Lok Sabha constituency
2019-04-12
Tehri Garhwal is one of five parliamentary constituencies in the northern state of Uttarakhand which will vote in a single phase in the Lok Sabha 2019 election - on April 11.
comments powered by