Pincode of Nowpachi, Doda, Jammu And Kashmir is 182205
Pincode
182205
Name
Nowpachi B.O
District
Doda
State
Jammu And Kashmir
Status
Branch Office(Delivery)
Head Office
Udhampur H.O
Sub Office
Palmar S.O
Location
Kishtwar Taluk of Doda District
Telephone No
Not Available
SPCC
JAMMU-180001
Department Info
Udhampur Division Srinagar HQ Region Jammukashmir Circle
Address
Kishtwar, 182204
Indian Postal Code System Consists of Six digits. The first to digits represent the state, the second two digits represent the district and the Third two digits represents the Post Office.In this case the first two digits

18

represents the state Jammu And Kashmir, the second two digits

22

represent the district Doda, and finally

05

represents the Post Office Nowpachi B.O. Thus the Zip Code of Nowpachi B.O, Doda, jammu and kashmir is 182205
Doda Info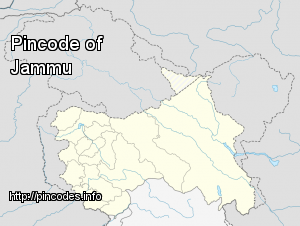 Jammu  pronunciation  is the largest city in the Jammu Division and the winter capital of state of Jammu and Kashmir. It is situated on the banks of Tawi river. It is administered by a municipal corporation.
Geography
Jammu is located at 32.73°N 74.87°E / 32.73; 74.87. It has an average elevation of 327 m (1,073 ft). Jammu city lies at uneven ridges of low heights at the Shivalik hills. It is surrounded by Shivalik range to the north, east and southeast while the Trikuta Range surrounds it in the north-west. It is approximately 600 kilometres (370 mi) from the national capital, New Delhi.
The city spreads around the Tawi river with the old city overlooking it from the north (right bank) while the new neighbourhoods spread around the More Info
RECENT NEWS
1
NDRF rescues close to 2000 passengers stranded in Mumbai-bound trains
2018-07-11
In a joint operation, the National Disaster Response Force (NDRF), the police and fire brigade personnel rescued the passengers of Shatabdi Express and Vadodara Express, a Palghar district official said.
2
Vadodara school murder: Class 9 student found dead with multiple stab wounds in toilet, senior pupil arrested
2018-06-24
The 14-year-old boy, a Class 9 student, was found dead with multiple stab wounds in the washroom of the school on Friday.
comments powered by