Pincode of Yamunanagar, Yamuna Nagar, Haryana is 135001
Pincode
135001
Name
Yamunanagar H.O
District
Yamuna Nagar
State
Haryana
Status
Head Office(Delivery)
Head Office
Sub Office
Location
Taluk of Yamuna Nagar District
Telephone No
01732-238186
SPCC
Yamunanagar-135001
Department Info
Ambala Division Ambala HQ Region Haryana Circle
Address
Yamuna Nagar, Haryana, India
Indian Postal Code System Consists of Six digits. The first to digits represent the state, the second two digits represent the district and the Third two digits represents the Post Office.In this case the first two digits

13

represents the state Haryana, the second two digits

50

represent the district Yamuna Nagar, and finally

01

represents the Post Office Yamunanagar H.O. Thus the Zip Code of Yamunanagar H.O, Yamuna Nagar, haryana is 135001
Yamuna Nagar Info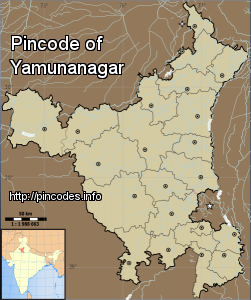 Yamuna Nagar †pronunciation† is a city and a municipal corporation in Yamuna Nagar district in the Indian state of Haryana. It is located south-east of the state capital Chandigarh. This town is known for the cluster of plywood units. It is also known for providing the country's finest timber to even larger industries.The older town is called Jagadhri ." The Jagadhri Railway Station services the city. It used to be a green, clean and prosperous industrial city. However, due to recent spur in Industrial units in and around the city have resulted in severe air, water and soil pollution issues. The city is turning up rapidly with the opening of multiplexes and various high end brand stores. Saroj Bala is the elected Mayor of Yamunanagar MC.
Geography
Yamuna Nagar has the river Yamuna running through the district, and forming the eastern boundary with the neighbouring Saharanpur district.More Info
RECENT NEWS
1
Zee News Maha Exit poll 2019: Haryana favours BJP, Congress likely to win in Punjab
2019-05-20
In Haryana, the polling took place for 10 Lok Sabha constituencies in the sixth phase on May 12. 
2
Lok Sabha election 2019: Over 63% turnout in sixth phase; polling now complete in 483 seats
2019-05-13
Polling in the sixth phase was held in Delhi, Haryana, Uttar Pradesh, Bihar, West Bengal, Jharkhand and Madhya Pradesh.
comments powered by