Pincode of Patti Kalyana, Panipat, Haryana is 132102
Pincode
132102
Name
Patti Kalyana S.O
District
Panipat
State
Haryana
Status
Sub Office(Delivery)
Head Office
Panipat H.O
Sub Office
Location
Panipat Taluk of Panipat District
Telephone No
0180-2569193
SPCC
PANIPAT-132103
Department Info
Karnal Division Ambala HQ Region Haryana Circle
Address
Pattikalyana, Haryana 132102, India
Indian Postal Code System Consists of Six digits. The first to digits represent the state, the second two digits represent the district and the Third two digits represents the Post Office.In this case the first two digits

13

represents the state Haryana, the second two digits

21

represent the district Panipat, and finally

02

represents the Post Office Patti Kalyana S.O. Thus the Zip Code of Patti Kalyana S.O, Panipat, haryana is 132102
Panipat Info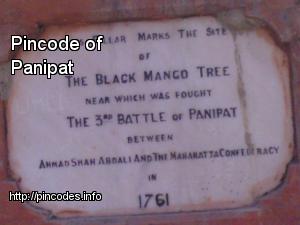 Panipat аpronunciationа (Hindi: рдкрд╛рдиреАрдкрдд) is an ancient and historic city in Haryana, India. It is 90аkm north of Delhi and 169аkm south of Chandigarh on NH-1. The battles fought at the city in 1526, 1556 and 1761 were turning points in Indian history. The city is famous in India by the name of "City of Weaver". The first verse of the Bhagavad Gita is possibly referring to Panipat as 'Dharmakshetra'.
History
According to the legend, Panipat was one of the five cities (prasthas) founded by the Pandava brothers during the times of the Mahabharata; its historic name being Pandavaprastha (Sanskrit: рдкрд╛рдгреНрдбрд╡рдкреНрд░рд╕реНрде, lit. city of Pandavas) Panipat was the scene of three pivotal battles in the Indian history. Panipat is first recorded in the Mahabharata as one of the five villages that the Pandavas demaMore Info
RECENT NEWS
1
Karnal Lok Sabha Constituency
2019-04-26
Karnal constituency covers eight assembly segments тАУ Nilokheri, Indri, Karnal, Gharaunda, Assandh, Panipat Rural, Panipat City and Smalkha.
2
Panipat: Minor, sleeping with mom, dragged to field and allegedly gangraped by 8 men
2018-10-30
The incident took place in Panipat's Sanoli.
comments powered by