Pincode of 116 SECTOR 1 IMT MANESAR GURGAO, Haryana is 122052
R-75, Sector 1, IMT Manesar, Gurugram, Haryana 122051, India
Pincode
122052
Name
IMT Manesar S.O
District
Gurgaon
State
Haryana
Status
Sub Office(Delivery)
Head Office
Gurgaon H.O
Sub Office
Location
Manesar Taluk of Gurgaon District
Telephone No
-
SPCC
.-0
Department Info
Gurgaon Division Ambala HQ Region Haryana Circle
Address
Gurgaon, Haryana 122052, India
Indian Postal Code System Consists of Six digits. The first to digits represent the state, the second two digits represent the district and the Third two digits represents the Post Office.In this case the first two digits

12

represents the state Haryana, the second two digits

20

represent the district Gurgaon, and finally

52

represents the Post Office IMT Manesar S.O. Thus the Zip Code of IMT Manesar S.O, Gurgaon, haryana is 122052
Gurgaon Info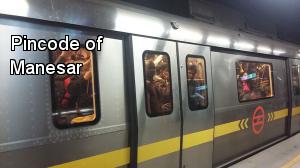 Manesar is a fast-growing industrial town in Gurgaon district of the State of Haryana in India, and is a part of the National Capital Region (NCR) of Delhi. It has transformed from a sleepy village to one of the fastest-growing townships in India. It is an upcoming area of NCR. Some of the developers have added a new tag to Manesar Proximity to political nerve center - Delhi has also led the government to establish headquarters of some institutes of national importance here like the National Security Guards (and its training center), National Bomb Data Centre and National Brain Research Centre.
More than 100,000 people go to work in Manesar from adjoining places. The Gurgaon-Manesar Master Plan projects the population of 37,00,000 by 2021. It has many factories, offices, hotels and educational institutes. There are several sightseeing spots around the area, some overlapping with Gurgaon. Manesar is 32 km from IGI Airport and has some of the best urban infrastructuMore Info
RECENT NEWS
1
Thieves wearing Santa Claus mask target 14 shops, banks in Gurgaon, decamp with cash
2019-01-05
A group of 10 thieves targeted 14 commercial establishments in the Khandasa road area and escaped with cash and valuables worth lakhs of rupees
2
4 Kashmiri youths held for 'raising funds for rehabilitation' of terror-affected regions of J&K
2018-10-28
The accused were arrested on Thursday evening and presented before a local court in Gurgaon on Friday, which sent them to two days police custody.
comments powered by