Pincode of Karawal Nagar, East Delhi, Delhi is 110094
Pincode
110094
Name
Karawal Nagar S.O
District
East Delhi
State
Delhi
Status
Sub Office(Non Delivery)
Head Office
Jhilmil H.O
Sub Office
Location
Taluk of East Delhi District
Telephone No
011-22933784
SPCC
DELHI-110001
Department Info
Delhi East Division Delhi Region Delhi Circle
Address
Karawal Nagar, New Delhi, Delhi, India
Indian Postal Code System Consists of Six digits. The first to digits represent the state, the second two digits represent the district and the Third two digits represents the Post Office.In this case the first two digits

11

represents the state Delhi, the second two digits

00

represent the district East Delhi, and finally

94

represents the Post Office Karawal Nagar S.O. Thus the Zip Code of Karawal Nagar S.O, East Delhi, delhi is 110094
East Delhi Info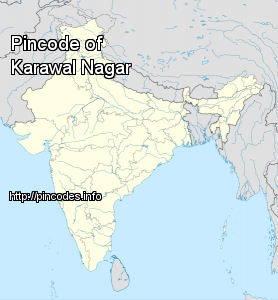 Karawal Nagar is a census town in North East Delhi, India.
Demographics
As of 2001 India census, Karawal Nagar had a population of 3,48,549.
Notes
...
More Info
RECENT NEWS
1
North India gets colder after overnight rain, several trains cancelled
2017-12-12
According to the Met department, Western disturbances have caused a heavy rainfall in Delhi-NCR, Rajasthan and triggered snowfall in the Kashmir Valley.
2
PM takes swipe at Congress' 'Parivaar Bachao, Rahul Bachao' mission
2017-12-12
"There are some people in Delhi whose sole Mission is 'Parivar Bachao', 'Rahul Bachao', the PM said.
comments powered by