Pincode of Karawal Nagar, East Delhi, Delhi is 110094
Pincode
110094
Name
Karawal Nagar S.O
District
East Delhi
State
Delhi
Status
Sub Office(Non Delivery)
Head Office
Jhilmil H.O
Sub Office
Location
Taluk of East Delhi District
Telephone No
011-22933784
SPCC
DELHI-110001
Department Info
Delhi East Division Delhi Region Delhi Circle
Address
Karawal Nagar, New Delhi, Delhi, India
Indian Postal Code System Consists of Six digits. The first to digits represent the state, the second two digits represent the district and the Third two digits represents the Post Office.In this case the first two digits

11

represents the state Delhi, the second two digits

00

represent the district East Delhi, and finally

94

represents the Post Office Karawal Nagar S.O. Thus the Zip Code of Karawal Nagar S.O, East Delhi, delhi is 110094
East Delhi Info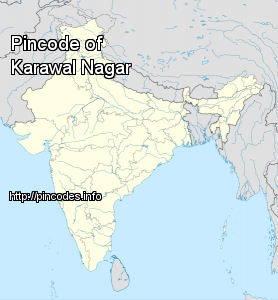 Karawal Nagar is a census town in North East Delhi, India.
Demographics
As of 2001 India census, Karawal Nagar had a population of 3,48,549.
Notes
...
More Info
RECENT NEWS
1
Diphtheria death toll at Delhi civic hospital rises to 18, mayor sets up panel
2018-09-24
Death toll of children due to Diptheria has risen to 18 in Delhi. 
2
BJP will identify illegal immigrants in country if it wins 2019 polls: Amit Shah
2018-09-24
Speaking at a rally in Delhi, Amit Shah targetted illegal immigrants living in the country.
comments powered by