Pincode of D Katasari, Sheohar, Bihar is 843329
Pincode
843329
Name
D. Katasari B.O
District
Sheohar
State
Bihar
Status
Branch Office(Delivery)
Head Office
Sitamarhi H.O
Sub Office
Sheohar S.O
Location
Sheohar Taluk of Sheohar District
Telephone No
Not Available
SPCC
MUZAFFARPUR-842001
Department Info
Sitamarhi Division Muzaffarpur Region Bihar Circle
Address
Sheohar, Bihar, India
Indian Postal Code System Consists of Six digits. The first to digits represent the state, the second two digits represent the district and the Third two digits represents the Post Office.In this case the first two digits

84

represents the state Bihar, the second two digits

33

represent the district Sheohar, and finally

29

represents the Post Office D. Katasari B.O. Thus the Zip Code of D. Katasari B.O, Sheohar, bihar is 843329
Sheohar Info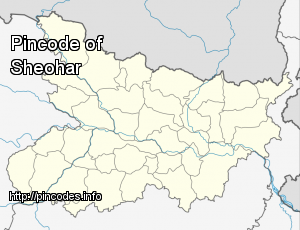 Sheohar, sometimes spelled Shivhar, is the principal town of Sheohar district in Bihar, India. It is a part of the Tirhut Division.
Geography
Sheohar is located at coor 26.52N, 85.3E. It has an average elevation of 53†metres (173†feet).
References
External links
Official Website of Tirhut Division
...
More Info
RECENT NEWS
1
Patna court summons Lalu Prasad Yadav in defamation case
2018-05-20
A member of the Bihar Disaster Management Authority,  Udaykant Mishra, who has accused the RJD chief of making disparaging remarks about his friendship with Chief Minister Nitish Kumar.
2
RJD chief Lalu Prasad Yadav's health deteriorates, rushed to IGIMS
2018-05-20
The veteran Bihar politician, who is out on a bail these days, was rushed to the hospital after he complained of breathlessness.
comments powered by