Pincode of D Katasari, Sheohar, Bihar is 843329
Pincode
843329
Name
D. Katasari B.O
District
Sheohar
State
Bihar
Status
Branch Office(Delivery)
Head Office
Sitamarhi H.O
Sub Office
Sheohar S.O
Location
Sheohar Taluk of Sheohar District
Telephone No
Not Available
SPCC
MUZAFFARPUR-842001
Department Info
Sitamarhi Division Muzaffarpur Region Bihar Circle
Address
Sheohar, Bihar, India
Indian Postal Code System Consists of Six digits. The first to digits represent the state, the second two digits represent the district and the Third two digits represents the Post Office.In this case the first two digits

84

represents the state Bihar, the second two digits

33

represent the district Sheohar, and finally

29

represents the Post Office D. Katasari B.O. Thus the Zip Code of D. Katasari B.O, Sheohar, bihar is 843329
Sheohar Info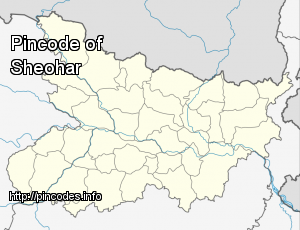 Sheohar, sometimes spelled Shivhar, is the principal town of Sheohar district in Bihar, India. It is a part of the Tirhut Division.
Geography
Sheohar is located at coor 26.52N, 85.3E. It has an average elevation of 53 metres (173 feet).
References
External links
Official Website of Tirhut Division
...
More Info
RECENT NEWS
1
Bihar CM Nitish Kumar greets devotees on Eid, joins devotees in prayer
2017-06-27
Nitish Kumar visited Khanqah Mujibia shrine at Phulwarisharif and took blessing of Hazrat Sayed Shah Ayatullah Kadri.
2
Nitish Kumar uncomfortable in grand alliance with RJD, Congress, will welcome him if he joins NDA: BJP
2017-06-25
The Bharatiya Janata Party (BJP) and its ally Lok Janshakti Party (LJP) said that they will welcome Bihar Chief Minister and Janata Dal United (JDU) Nitish Kumar into the National Democratic Alliance (NDA).
comments powered by