Pincode of D Katasari, Sheohar, Bihar is 843329
Pincode
843329
Name
D. Katasari B.O
District
Sheohar
State
Bihar
Status
Branch Office(Delivery)
Head Office
Sitamarhi H.O
Sub Office
Sheohar S.O
Location
Sheohar Taluk of Sheohar District
Telephone No
Not Available
SPCC
MUZAFFARPUR-842001
Department Info
Sitamarhi Division Muzaffarpur Region Bihar Circle
Address
Sheohar, Bihar, India
Indian Postal Code System Consists of Six digits. The first to digits represent the state, the second two digits represent the district and the Third two digits represents the Post Office.In this case the first two digits

84

represents the state Bihar, the second two digits

33

represent the district Sheohar, and finally

29

represents the Post Office D. Katasari B.O. Thus the Zip Code of D. Katasari B.O, Sheohar, bihar is 843329
Sheohar Info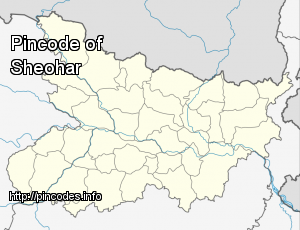 Sheohar, sometimes spelled Shivhar, is the principal town of Sheohar district in Bihar, India. It is a part of the Tirhut Division.
Geography
Sheohar is located at coor 26.52N, 85.3E. It has an average elevation of 53 metres (173 feet).
References
External links
Official Website of Tirhut Division
...
More Info
RECENT NEWS
1
Bihar flood situation worsens; toll rises to 202
2017-08-20
Yesterday, the toll was 153 and the number of affected people stood at 1.08 crore in 17 districts.
2
Bihar: Two minor brothers drowned in flood waters
2017-08-20
Two brothers, both teen agers, got drowned on Saturday in flood water in Motihari town area of East Champaran district, police said.
comments powered by