Pincode of Sarsi, Patna, Bihar is 801110
Pincode
801110
Name
Sarsi B.O
District
Patna
State
Bihar
Status
Branch Office(Delivery)
Head Office
Patna G.P.O.
Sub Office
Paliganj S.O
Location
Paliganj Taluk of Patna District
Telephone No
Not Available
SPCC
PATNA-800001
Department Info
Patna Division Patna HQ Region Bihar Circle
Address
Sarsi, Bihar 801110, India
Indian Postal Code System Consists of Six digits. The first to digits represent the state, the second two digits represent the district and the Third two digits represents the Post Office.In this case the first two digits

80

represents the state Bihar, the second two digits

11

represent the district Patna, and finally

10

represents the Post Office Sarsi B.O. Thus the Zip Code of Sarsi B.O, Patna, bihar is 801110
Patna Info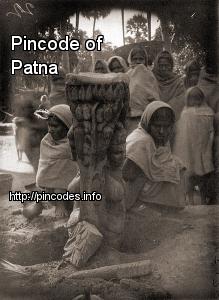 Patna /ˈpætnə, ˈpʌt-/ (Devanāgarī: पटना) is the capital and largest city of the state of Bihar in India. Patna is the second largest city in eastern India after Kolkata. It had an estimated population of 1.68 million in 2011, making it the 19th largest city in India. With over 2 million people, its urban agglomeration is the 18th largest in India. Patna also serves as the seat of Patna High Court.
One of the oldest continuously inhabited places in the world. Patna was founded in 490More Info
RECENT NEWS
1
'Clothes worn by Hindu girls embarrassing': Patna college bans jeans, patiala suits
2017-12-07
The college authorities also imposed a prohibition on the use of mobile phones in classrooms. 
2
Patna: Sweeper molests 8-yr-old student at school, arrested
2017-12-07
The child was molested inside the toilet of the school by the staff. 
comments powered by