Pincode of Rakapalli, Khammam, Andhra Pradesh is 507135
Pincode
507135
Name
Rakapalli B.O
District
Khammam
State
Andhra Pradesh
Status
Branch Office(Delivery)
Head Office
Bhadrachalam H.O
Sub Office
V.R.Puram S.O
Location
V.r.puram Taluk of Khammam District
Telephone No
Not Available
SPCC
Khammam-507001
Department Info
Khammam Division Vijayawada Region Andhra Pradesh Circle
Address
Andhra Pradesh 507135, India
Indian Postal Code System Consists of Six digits. The first to digits represent the state, the second two digits represent the district and the Third two digits represents the Post Office.In this case the first two digits

50

represents the state Andhra Pradesh, the second two digits

71

represent the district Khammam, and finally

35

represents the Post Office Rakapalli B.O. Thus the Zip Code of Rakapalli B.O, Khammam, andhra pradesh is 507135
Khammam Info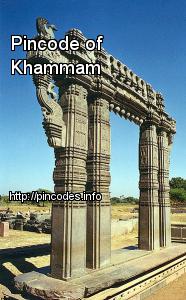 Khammam is the city in Khammam district of the Indian state of Telangana. It is the headquarters of the Khammam district, located in Khammam mandal. It is located about 193 kilometres (120 mi) east of the state capital, Hyderabad. On 19 October 2012, Khammam city was upgraded as municipal corporation, which includes 14 surrounding villages. The river Munneru flows on the western side of the town. It has been the head quarters of the district since 1953. it is also a divisional and taluk head quarters. It has a population of 2,84,268 as per 2011 Census with an area of 94.37 Sq. km. It has developed in to an important center of education with three Arts and Science Colleges and other educational institutions. The Government head quarters hospital and the MissionHospital provide higher order medical facilities to the entire region of the town. It is a trading centre for the agricultural produce of its hinder land. It is also an important commercial centre.
More Info
RECENT NEWS
1
Telangana: 15 children seriously injured in road accident
2017-09-14
A many as 15 school children were injured after the vehicle, carrying them met with an accident in Telangana`s Khammam District on Wednesday.
2
Handcuffing of farmers: SHRC seeks report from police
2017-05-13
Ten chilli farmers, who were arrested for allegedly vandalising the Khammam Agriculture Market Yard office on April 28, were produced in the court in Khammam town near here in handcuffs yesterday.
comments powered by